Teespring has evolved from t-shirt tech start-up to a profitable global e-commerce platform. Anyone can use Teespring to turn their ideas into sellable products, scale growth through our simplified selling solutions, and use our technology to thrive in e-commerce.  
Teespring for everyone
The print-on-demand industry has become more accessible and inclusive over the years. As we've grown so has our community of users. Teespring's technology works for everyone—from creators, to artists, to sellers, and everyone in between. We provide a simple solution to create and sell customized products online.
Our new website highlights this offering and ensures visitors are able to identify and utilize Teespring tools designed to help them succeed. Visit Teespring's design site to learn more about our four new destination pages. 
We've built a new framework to better support
Teespring users by creating a home tailored to their needs.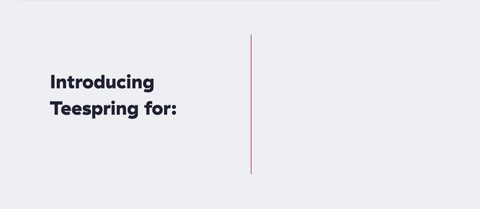 We invite everyone to explore the new website and to learn more about how Teespring can help you—whether your goal is creating a successful online business, selling high quality merchandise to fans, or distributing your artwork worldwide. Thank you for being a part of this journey, we can't wait to see what the future holds.